Begin to sew.  Make friends with your machine.  Complete three fun projects. Sign up here.
Sew like a pro with Apparel Construction. Improve your skills. Sign up here.
Have summer weddings in mind?  Make your Couture dress here.
Can I please have some Pants that fit?  How about a jump suit or overalls?  Good fit starts here.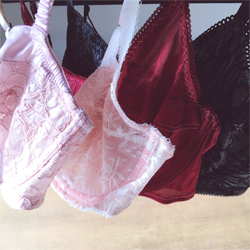 Make pretty. Beautiful engineering that fits: Make your own bras and bralettes with Lisa Silveira.