Here are 4 ways for you to capture joy in hand sewing:
Couture Techniques.  Weds, April 11-May 16, 6-9 pm.  You will lay out, cut, mark, hand sew, and finish on those fabrics that strike fear in your heart:  Chiffon, charmeuse, satin and velvet.
Eco-Couture.  Sat, April 14-May 19, 2-5 pm.  Use the skills from American made brand Alabama Chanin:  stencils, painting, stitching with organic threads and fabrics.
Lace Shaping.  Sat, April 21, 2-5 pm.  Use couture techniques while attaching lace seamlessly to a base garment.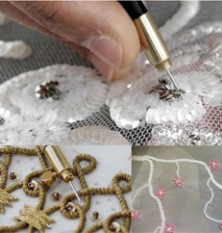 Embroidery & Beading ala LeSage.  Sat, April 21, 2-5 pm.  Cover the process of creating chain stitch lace with a tambour needle, embroider with delicate beads and sequins.