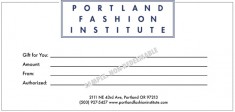 Buy a gift certificate for the fashion designer in your life.
Certificates are e-mailed as a pdf.  Let us know if you'd rather have it mailed within one week of receipt of check and sent in a decorative PFI envelope or if you'd rather pick it up at PFI instead.
Suggestions:
$35 — Gives you three hours of Rehab or Pattern Lab or a one-hour private lesson.
$50 — Gives you a private lesson plus some supplies.
$135 — Gives you one level (4 sessions) of beginning sewing.  Includes pattern and handouts!
$259 — Gives you one level (6 sessions) of any Intermediate Sewing class such as knits, jackets, shirts, pants, jeans, menswear, leatherworking and more. Includes pattern and handouts!
$359 — Gives you into any Advanced class such as draping, patternmaking, couture, tailoring!
$365 — Gives you enough to buy a beginning sewing series (12 class sessions), or some models of dress forms or  sewing machines!
$500 — Go wild!
Have another amount in mind?  Send an e-mail to info@pfi.edu and we'll make special arrangements for you.  Want to buy fabric & tools?  Click here to visit the PFI Supply Store.
Be sure to tell us your name and e-mail plus the name, address (street, city, state, zip) and e-mail for your loved one.
Gift certificates are good for one year from date of purchase and are redeemable for Portland Fashion Institute classes and items from the Portland Fashion Supply store.
Instructor:
PFI
Dates/Times:
Your choice
Cost/Cost Options:
Your choice
Supply List:
CLASS SUPPLY LIST
Please contact the PFI Sewing Store Manager for questions about your Supply List.
Additional Notes/Costs: