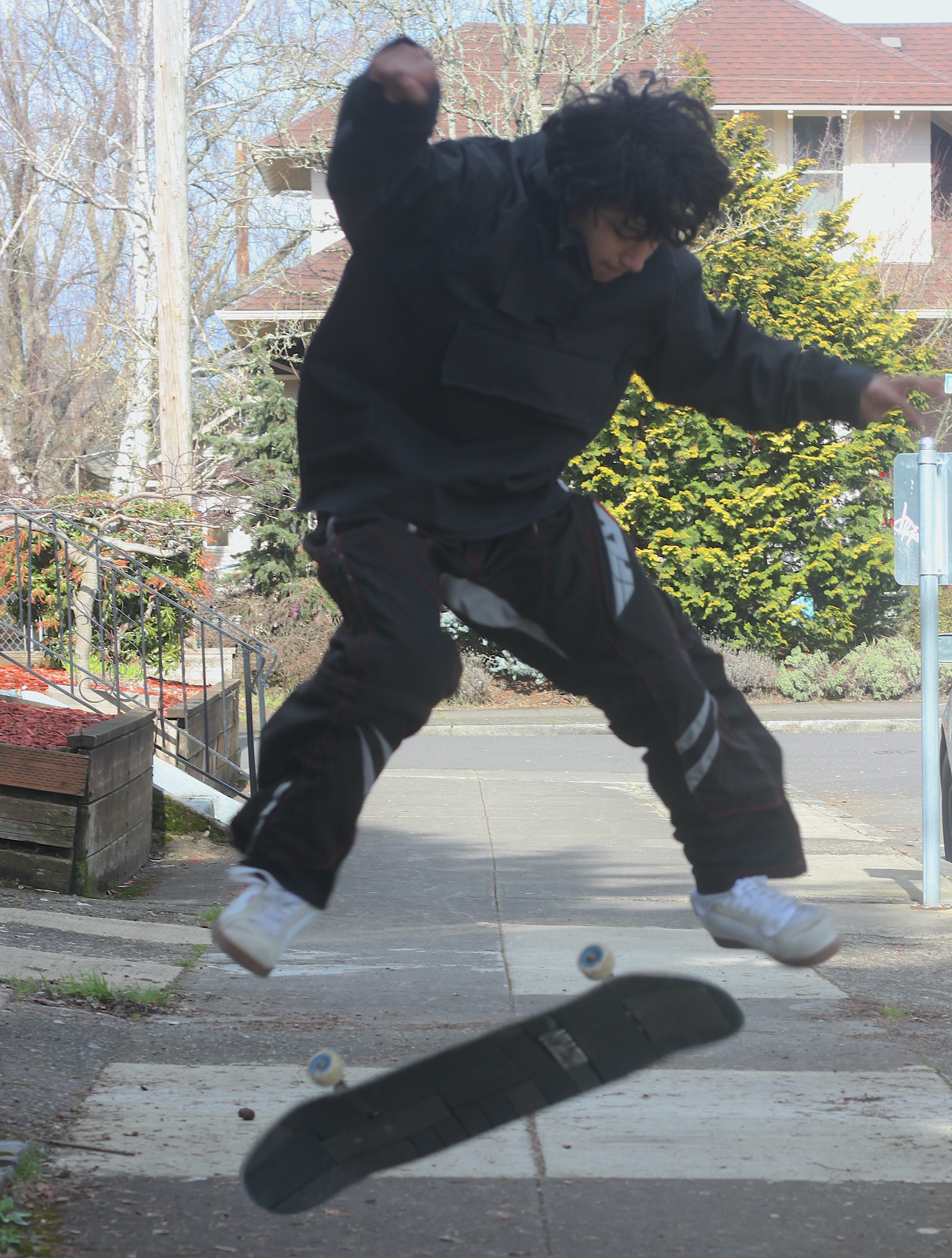 Workwear meets sportswear concept wins Portland teen a Fashion Scholarship
The pandemic is nearly over. It's time for a new, more practical way to think about clothes. What need do they fill? What we should buy and why?
It's that thoughtful point of view that won Gabriel Madlangbayan of Jefferson High School a fashion design scholarship at Portland Fashion Institute, Portland's only accredited fashion school.
It's the tenth year for PFI's scholarship contest. This year the school focused on persons of color.
Madlangbayan came up with a concept of combining workwear with sportswear. He designed and created a warm but functioning outerwear jacket — quite a feat for a beginner. He then demonstrated its use by skateboarding in the snow and letting his jacket cushion the blow when he fell.
His focus, however, is on more than just fashion.
"One of my favorite things about skateboarding is the people," he says. "I've noticed there is little to no discrimination among the community, whether that's age, race or gender. Everyone seems to accept each other. Knowing this while being a person of color definitely gives me a lot more confidence.
"I'm looking forward now to learning professional skills at PFI," he says, "and the business of fashion."
Madlangbayan is 17. After his education at PFI, he would like to work for Nike or Adidas. But he has his sights on bigger things.
"I know is not really a revolutionary idea or something that will change the game in the fashion world, but I just wanted to do something that was important to me and my friends. I figured that should come first."
PFI's annual scholarship aims to give young designers a path into one of Portland's many major apparel manufacturing companies. It is open to full-time students in Portland and Vancouver area high schools who have a GPA of 2.5 or more. Each contestant creates an original apparel design idea with sketches, interviews of influential people and an essay on fashion design.
Judges include leaders for Adidas, Columbia Sportswear and Nike.
More than 6,000 persons have studied at PFI since it opened in 2010. While most students come to PFI for a class or two, those interested in a career have gone on to start their own clothing lines, to work for one of the area's many apparel companies or to gain entry into one of the top schools in New York, London or Paris.
Photo:  Workwear + sportswear is a design idea that achieves more than fashion and won Jefferson High School's Gabriel Madlangbayan a scholarship to Portland Fashion Institute.  At PFI he plans to learn the skills to take his ideas into a career at one of Portland's major apparel companies and beyond.  Here, his brother Curtis wears Madlangbayan's award-winning idea.