Computer Print Design
Create images -- one or enough to repeat -- and make your own printed fabric.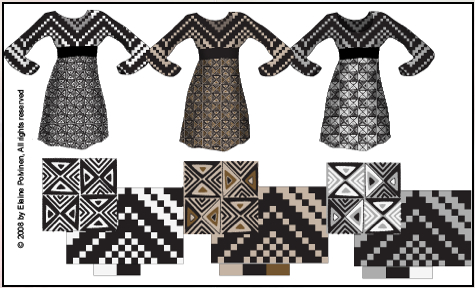 Use analog and digital tools to design patterns, logos ready to print on fabric. Judge the scale of images suitable for each garment.  Choose color suitable for your brand.  Understand repeats and registration.  Last class takes you to a production house where you can print your design.  End class with yardage ready to cut and sew.  Prerequisite:  Intro to Graphic Design
Syllabus File
Instructor:
Cathy Libnic, graphic designer for Nike
Dates/Times:
Monday, May 21-July 2, 6-9 pm (no class Memorial Day)
Cost/Cost Options:
$249 or $448 if combined with Graphic Design.
Additional Notes/Costs:

Supply list:  Bring a laptop loaded with Adobe CC, a thumb drive and something with which to take notes.  Miscellaneous art supplies will be used during the class.  Details will be given in the first class
CREDIT CLASS
|
CLASS POLICIES
|
CLASS SUPPLY LIST
|
WAITING LIST