PFI's business classes are the best classes I have ever taken for my business. They are full of real life experience and priceless advice. Your teachers are incredibly knowledgeable and willing to share their years of experience and priceless information! –Bondi N

I was not able to take all of the offered classes this year, still I have walked away with priceless advise, information and a long to do list for my business right now, and next year I plan on signing up for the entire series again. — Eve C
Trying to break into the apparel business but don't know where to start? Then you've come to the right place.
Our Apparel Entrepreneur Series gives you everything you need to know to price, develop and sell your apparel and accessories. Classes take place as "Saturday Seminars".  The Fall term classes start in September and take place on Saturdays, 10 am-1 pm.  Take each one for $65 or the series for $680.  Click on any link below to register.
Certificate Program students: Choose the credit option on each class to register.
Fall classes are:
— September 15: Start an Apparel Business with Sharon Blair and Jo Carter, PFI
— September 22: Excel for Apparel Professionals with Dana Ditto, Nike
— September 29: Accounting Basics with Nancy Mitchell, E-Options
— October 6: Fashion Forecasting with Andrea Moore, Moore Custom Goods
— October 13: Costing & Pricing with Dana Ditto, Nike
— October 20: Working with Production with Alyson Clair, Clair Vintage Inspired
— October 27: Sourcing 101 with Dana Ditto, Nike
— November 3: Contracting Basics for Apparel with Owen Schmidt, attorney
— November 10: Protect Your Intellectual Property with Amelia Forsberg, IP attorney
— November 17: Working with Boutiques with Celeste Sipes, Thunderpants
— December 1: Truth about Trade Shows with Jason Calderon,West Daily
— December 8: Social Media Marketing with Ben Herman, Mad Fish Digital
The series continues in Winter term with classes on how to promote and finance your collection.
Those taking Business Classes are eligible for a grant to launch their business — a boost of $4,000.  Click here for more information.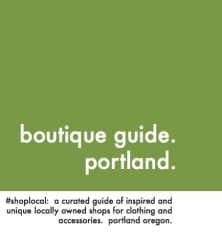 BONUS!  Sign up for the series and get your free copy of "Boutiques Guide:  Portland".  Your guide to locally owned boutiques selling independent design with features on 34 carefully chosen shops with pictures and plenty of useful details.  There are maps to find your way around plus tips on where to get a bite to eat and find a happy hour!
Portland Fashion Institute students have gone on to success in apparel.  They include:
– Alicia Wood, Keen and Ms Wood Kimonos
– Annie Cattabriga-Alosa, Divinia
– Amanda LeGore, ShadeSuits, LLC
– Caitlin McCall, Quick Study Clothing
– Celeste Sipes, Thunderpants
– Claire Doody, Copper Union
– Ellen Hsu, Vintalier
– Heidi Bergin, Adelheid Bergin
– Jessica Caldwell, Machine Apparel
– Lisa Silveira, Wandering Muse
– Mark McGinnis, Adidas and The Incorporated
– Serena Skaates, Columbia Sportswear
– Stephanie Mai, Stephanie Mai Couture
Other students include:
– Amanda Needham, stylist for film and television
– Gretchen Jones, Project Runway Season 8 winner and fashion designer
– Holly Stalder of Haunt and Kate Towers, both formerly of Seaplane
– Rachel Turk of Church & State
– Amy Sim, Bryce Black , Becky Ross, Janeane Marie, Korina Emmerich, Project Runway contestants
– Many who now work at Adidas, Carson Footwear, Columbia Sportswear, Merrill, Nike, Solestruck, True Collaborative, Wilson Tennis, Wieden + Kennedy and several area boutiques.
Your name could be next on our list!
I just wanted to reiterate my thanks for your help and mentorship over the past few years.  I'm so excited about my new job in product innovation and development.  The team I'm joining wants someone who knows how to pattern and sew in order to test out new ideas and optimize them.  The construction, pattern making and CAD skills I gained at Portland Sewing were key to the position.  Thanks so much for your guidance and leadership!"  — Serena S