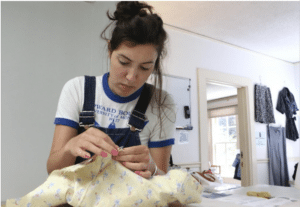 By Demi Lawrence
Staff Reporter, Portland Business Journal
As demand for apparel and textile classes increases, Portland Fashion Institute plans to use new technology in the coming year to make classes available to more students, including those outside of Portland.
Sharon Blair founded what would become PFI in 2010 as a pattern and sewing class. It has grown into an accredited institution that sets up students for jobs at Nike, Adidas, Columbia Sportswear and other companies within Portland's vast apparel landscape.
Even before the pandemic, the institution offered online classes for those who wanted an education without moving to the region. Over the last several years, nearly 40% of its students have tuned in online from outside the Portland area. However, they've only been able to take lecture-based classes because of the physical requirements of classes like draping and sewing.
"We tried putting our hands-on classes — the sewing, the pattern making — online, and that just didn't work. It felt too YouTube," Blair said. "You need to have your hand on that person's hand, or point at it and show them exactly how to draw that line."
Technology advancements that Blair said she can't yet disclose has helped the institution better educate students in the more hands-on classes. Because of this advancement, Blair said PFI is officially
expanding its focus to a more national one and expanding the amount of classes it offers to more than 80.
Additionally, Blair said the institution recently moved its facilities into a space that is three times larger than its old one. Though they are still in the heart of Portland's Hollywood district at 4301 N.E. Tillamook St., more space also allows Blair to bring on more teachers all of whom work in Portland's apparel industry.
Portland Fashion Institute, currently located at 2111 N.E. 43rd Ave., will relocate to its new facility next April.