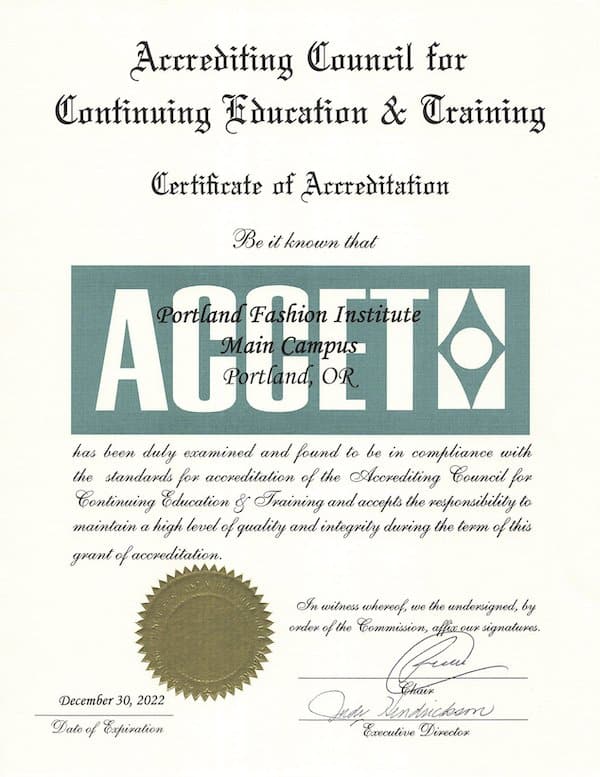 PORTLAND FASHION INSTITUTE EARNS ACCREDITATION FOR ITS FASHION DESIGN PROGRAMS FROM NATIONAL ACCREDITING ORGANIZATION
PORTLAND, Ore. — Portland's only fashion design school took a new step today.  Portland Fashion Institute has been accredited by the Accrediting Council for Continuing Education and Training (ACCET), a statement that the school's teaching and programs meet rigorous educational standards.   PFI is ACCET's first fashion design school.
"While we have been in business for nearly ten years — first as Portland Sewing then licensed by Oregon as PFI — the ACCET accreditation is a meaningful milestone in the evolution of the school," said Sharon Blair, PFI's director. "It validates that we are operating at a level of excellence.
"It gives us great confidence that we have a positive impact the success of Portland's apparel community and the careers of our students — whether they are here for a single class or for a career."
In its evaluation process, ACCET noted PFI's strengths in the quality of its classes and teachers, its connection to the Portland's apparel companies and its graduation and placement rates.
ACCET accredits continuing education and training programs at more than 214 schools nationwide.  It was officially recognized in 1978 by the U.S. Department of Education.
Accreditation means PFI can apply for Title IV eligibility to offer financial aid and grants to its enrolled certificate students.
"Our motto remains '#schoolwithoutdebt'," Blair said.  "We plan to remain an affordable option for apparel education."
PFI with Title IV could accept 529 plans such as Oregon College Savings Plan funds, help foreign students with visas and pursue contracts and affiliations with welfare, rehabilitation, and other workforce development programs.
Its website will soon change from www.portlandfashioninstitute.com to www.pfi.edu
More than 6,000 persons have studied at the school since it opened its doors in April 2010.  Most students come for a single class, from beginning sewing to patternmaking to apparel business.   Others come to enroll for a career.  This will not change.
PFI offers three apparel programs for enrollees:  Apparel Design, Apparel Technical Developer and Apparel Entrepreneur.  Enrollees have gone on to start clothing lines, open boutiques, take jobs at Portland Opera and Michael Curry Designs and work for area apparel companies from Adidas, Columbia Sportswear and Nike to Bridge & Burn and Duchess Clothiers.
# # #