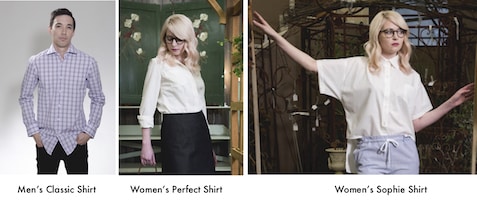 Learn to adjust patterns to fit. Then learn techniques from the garment industry for perfect cuffs, collars, collar bands and pockets.  Women: Choose from one of three styles:  #4510-Man's Classic dress shirt, #4520-Perfect Shirt, #4521-Sophie Shirt (left to right).
Prerequisite: Apparel Construction
Instructor:
Britta Hellquist, Tomato & Berry Tailoring; Elle Heavin, Elle Heavin Couture
Dates/Times:
Tuesdays, May 17-June 21, 10 am-1 pm OR 6-9 pm


Cost/Cost Options:
$249 or $473 with Dresses
Supply List:
CLASS SUPPLY LIST
Please contact the PFI Sewing Store Manager for questions about your Supply List.
Additional Notes/Costs:
Send in your pattern choice upon registration.  
Buy your supplies at pfisewing.com with your 20% student discount. Order kits or individual items then pick them up at PFI Supply store, 4225 NE Tillamook next to PFI school, or the first day of class at PFI.
"Love the fitting session and learning how to fit the pattern to my body type." -- Claire M