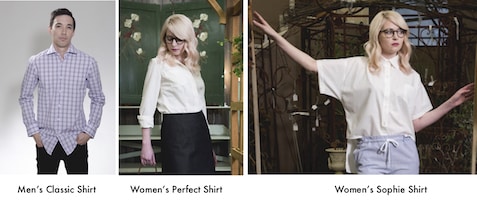 Learn to adjust patterns to fit. Then learn techniques from the garment industry for perfect cuffs, collars, collar bands and pockets.  Women: Choose from one of three styles:  #4510-Man's Classic dress shirt, #4520-Perfect Shirt, #4521-Sophie Shirt (left to right).
Prerequisite: Apparel Construction
Instructor:
Elle Heavin, Elle Heavin Couture
Dates/Times:
Classic Shirts: Tuesdays, Jan 10-Feb 14, 10 am-1 pm OR 6-9 pm
Dresses: Tuesdays, Feb 21-March 28, 10 am-1 pm OR 6-9 pm


Cost/Cost Options:
$259 or $492 with Dresses
Supply List:
CLASS SUPPLY LIST
Please contact the PFI Sewing Store Manager for questions about your Supply List.
Additional Notes/Costs:
Send in your pattern choice upon registration.  
Buy your supplies at pfisewing.com with your 20% student discount. Order kits or individual items at PFI Supply or visit 2111 NE 43rd Building - our Mini Mart - to shop or pick up your online orders.
"Love the fitting session and learning how to fit the pattern to my body type." -- Claire M