After a year of losing longtime fashion establishments, one school is going gangbusters.
Portland Monthly
By Eden Dawn 4/16/2019 at 9:53am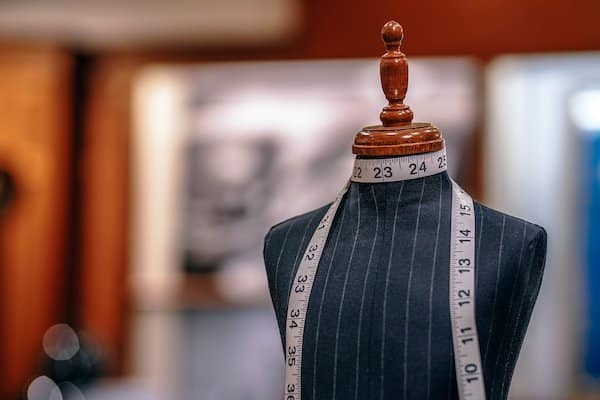 The local fashion community took a lot of hits in the last year. In December, The Art Institute of Portland—known for filtering graduates directly into the mega machines of Nike, Adidas, and Columbia—shut its doors after operating for 20 years. Prior to being acquired as part of the AI chain, it had been the Bassist College, a fashion institute for women, since 1963. In October, Fabric Depot, a stalwart of the sewing community providing budding young designers and quilting grandmothers alike with bolts and threads, shut its doors suddenly after 26 years. And finally, in February of 2019, the Oregon College of Arts and Crafts, with a 112-year-old history in the community, announced it will close its doors next month.
At the same time, the Portland Fashion Institute  just doubled their campus size to accompany their exploding annual growth of 103% a year.
Some background, first. Founder and director Sharon Blair was a former instructor at the Art Institute knew she loved teaching, but was struggling with the high-cost of AI's tuition, saddling students with up to 30 years of debt. She wanted to create an option students who just wanted to focus on the fashion aspect. (Full disclosure, Blair was my sewing teacher at AI many years ago.) In 2010 she opened the doors of her school, then called Portland Sewing, committed to providing more affordable options for those who wanted the trade skills. Today it operates out of two simple, renovated homes in the Hollywood neighborhood.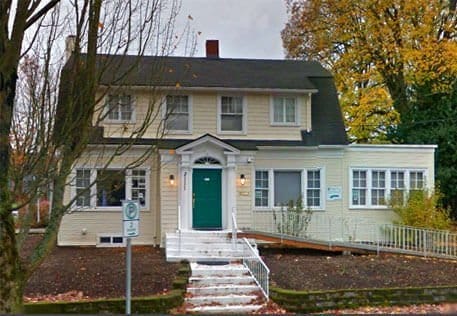 "I couldn't understand burdening people with that kind of debt for the rest of their lives. That I think is the shadow of what is driving our success goes. We've always believed in students without debt. And always lived within our means," she says. "We're always going to counsel them to first stick with living within their means and people pay for the classes as they go along. We even break it down into monthly payment plans for them. I'd rather that they left us without any burden on their shoulders."
Her vision of affordability rings true. A 4-week sewing class is under $30 a session, and even a 12 week pattern-making class with all the specialty supplies included runs just $55 a session. Most classes have around a dozen students ensuring a lot of instructor face time. By comparison, AI's tuition was $485 per credit hour after capping it in 2014.
There's even some familiar face crossover between the two schools from instructors beyond Blair. With the addition of the new building textile designer Trish Langman, who's crafted prints for everyone from Calvin Klein to Pendleton, now teaches her techniques in a hands on dyeing and manipulation class. Elizabeth Mollo, the city's busiest fashion show producer teaches her methodology to budding apparel students for a fraction of the price of the former college. Additionally Blair contracts with a host of well known names in the industry from designer Liza Rietz teaching an experimental design class to Karen Spencer, who formed Nike's Intellectual Property Transactions and Licensing functions, with business plan courses.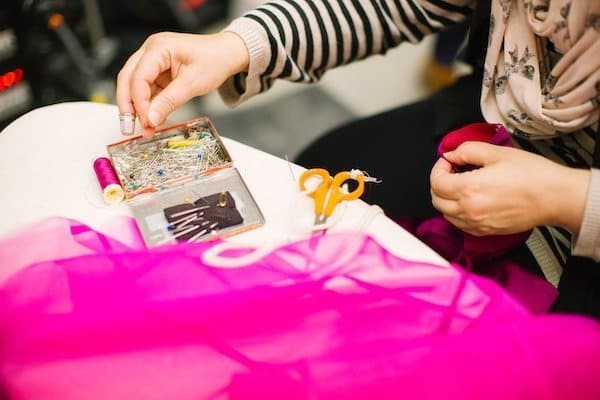 Now, as the school approaches the 10 year mark, students will soon have some new options. PFI is a licensed trade school that's also in the midst of the long process to also become accredited with the Department of Education, which would lend the school more prestige and name recognition. It will also give students the opportunity to apply for FAFSA loans—though Blair says she will expressly discourage students from doing so in keeping her zero-debt vision.
Currently the student body is a mix of working professionals building their resumes with, say, a computer pattern-making class, and people looking to change careers entirely by entering into one of their three certificate programs: Apparel Design, Apparel Development, or Entrepreneurship.
Certificate graduates get employment assistance with an impressive success rate of 100%. Meaning if you graduate from the program, PFI says they will help you find a job in the fashion field. Former students now work for eco-friendly brand Looptworks, on the Yeezy line for Adidas, Hannah Andersson, Pendleton, and Columbia. All of them successfully working in the fashion industry without the previously required $70,000 training price tag.
"I don't need a jet, you know," says Blair. "I want to just build Portland as a market center for the apparel industry."
# # #