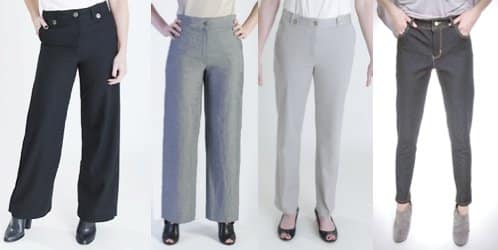 Make a pair of pants that will flatter your figure! Choose from one of five styles including overalls. Learn all about fitting pants to you. Stitch four different kinds of seams, two kinds of zippers and four kinds of pockets.  Choose the waist (high, faced or low-rise), leg (skinny, straight or flared) and length (full-length or capris).   Your choice of #2100 Paris straight legs with high waist option, #2200 Hepburn flare pants,#2300 Cabaret skinny jeans. Prerequisite: Apparel Construction
Need a machine?  Click here
Instructor:
Rianna Aguirre, Thread Theory pattern developer; Elle Heavin, couturiere
Dates/Times:
Pants & Jeans: Tuesdays, September 13-October 18, 2-5 pm OR 6-9 pm
Casual Jackets: Tuesdays, October 25-November 29, 2-5 pm OR 6-9 pm
Cost/Cost Options:
$259 for Pants & Jeans $492 Pants & Jeans + Casual Jackets
Supply List:
CLASS SUPPLY LIST
Please contact the PFI Sewing Store Manager for questions about your Supply List.
Additional Notes/Costs:
Send in your pattern choice upon registration.  Stop by PFI and see the samples.  Don't forget you can buy your items next door at PFI Supply with your 20% student discount.