Fit & Pattern Alteration
Never have poorly fitting clothes again. Have our expert fit engineer from Columbia Sportswear help alter your favorite patterns and slopers.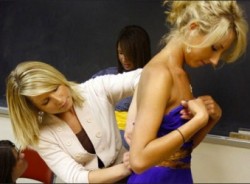 Discover what makes for a flattering fit.  Start with your favorite pattern or sloper.  Learn your common fit issues and the tricks for adjusting your commercial patterns from here into eternity from a pro who does this for a living.  Never have poorly fitting clothes again!
Syllabus File
Instructor:
Valerie Furcron, fit engineer, Columbia Sportswear
Dates/Times: Saturdays, February 10-March 17, 2-5 pm

Cost/Cost Options:
Non-credit: $249
Additional Notes/Costs:

Don't forget you can buy your supplies from Portland Fashion Institute with your 20% student discount.
CREDIT CLASS
|
CLASS POLICIES
|
CLASS SUPPLY LIST
|
WAITING LIST