Embroidery & Beading ala Lesage
Learn traditional and couture embroidery and beading techniques with our Lesage class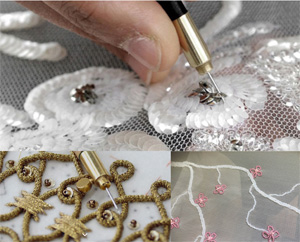 Cover the process of creating chain stitch lace with a tambour needle. With the same needle, practice embroidery with delicate beads and sequins. Incorporate basic embroidery techniques with needle and embroidery thread.  Learn the techniques necessary to create your own haute couture details.
Lesage is France's oldest embroidery house, it has a detailed history of fashion over the past 150 years. Started by Albert Michonet, embroiderer to Napoleon III as well as Paris couture pioneers Madeleine Vionnet and Charles Worth. tambour embroidery is embroidery done with a tiny hook. It's normally associated with bead (and sequin) embroidery. Design houses such as Chanel and Yves Saint Laurent use this method to create their delicate beaded garments.
Syllabus File
Instructor:
Britta Hellquist, costumer and couturier
Dates/Times:
Saturday, April 28, 2-5 pm
Cost/Cost Options:
$149
Additional Notes/Costs:

Don't forget your 20% student discount in Portland Sewing's supply store.
CREDIT CLASS
|
CLASS POLICIES
|
CLASS SUPPLY LIST
|
WAITING LIST