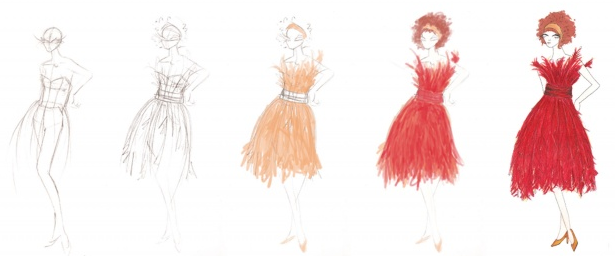 Design for a specific customer. Refine your progressions.  Choose your fabrics, trims and colors. Critique your own work to define, edit and refine your collection.  Leave with finished illustrations ready for a portfolio or to start patterning and sewing your collection.
Prerequisite:  Fashion Illustration, Adobe
Instructor:
Jena Nesbitt, product strategy director, PCF
Dates/Times:
Wednesdays, April 14-June 30, 2-5 pm
Cost/Cost Options:
$449
Supply List:
CLASS SUPPLY LIST
Additional Notes/Costs:
"I wanted to let you know that this class has been one of my favorites at PFI. I really enjoy the teaching style and industry knowledge." -- Jessica C.
Become familiar with PFI's online Intranet, Populi. You will receive a Populi username and password. By two weeks before class starts, your instructor will load your class syllabus and your first class assignment. By one week before your class starts, you are sent a reminder of log-in instructions and directed to go online to test your system then read the syllabus and first assignment and to download your class files. At this time, make sure you have downloaded and opened your Adobe Illustrator just to make sure your subscription program is completely set up and ready to work on your first day of class.