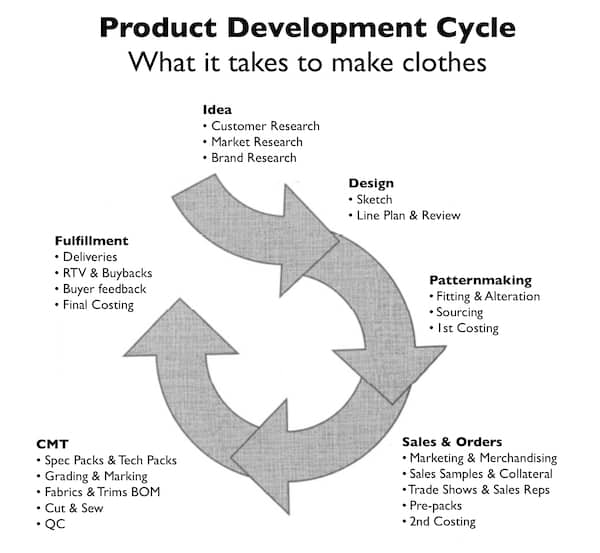 The steps to making something you love that also sells are simple and finite.  If it makes you a living.  Wow!  You've done it.   Here are the six simple steps to get  you there:
1. Idea
Research + Inspiration = product that's in demand.
Develop strategies to get the right merchandise at the right price at the right time in the right amount to the right locations to meet the wants and needs of the target customer
Why Research?
No style or group of styles can be considered fashion unless they are accepted and bought by the public.
Research who will buy it:
• Who is your public (target market)?
• What do they need?
• How much are they willing to spend?
• Where do they buy?
Research what they will buy:
• What's on the streets?
• What do trend reports say?
• Shop! What are others selling?
• How are they merchandising it?
• How are they pricing it?
• What are they missing?
• Where do you fit in?
Decide the best time of the year to start selling your items.
Research your Brand & create a marketing plan
•  Who are you?
•  What do you plan to offer
•  How are you positioned
•  How do you differ from others
ª  What is your name/logo/look
Success depends on developing and maintaining a line based on the market niche
2.  Design
Decide on your:
• Colors and values
• Fabrics and textures
• Shapes (line, balance, proportion) = sizes
• Sketch 24. Edit.
• Draw 12. Edit.
• Illustrate 6 cohesive garments that represent your brand.
This is your line — for a season.
3.  Make Patterns
• Set pattern standards
• Write prototype garment spec sheets
• Make first patterns
• Source your fabrics & trims
• Sew prototypes
• Fit then alter your patterns.
• Sew your samples
Calculate preliminary costs and pricing strategy
4.  Take Sales and Orders
• Prepare your sales materials — whether you are selling wholesale or direct to consumer online through your website.
• Take orders.  TIP:  Give discounts for pre-packs.
• Grade your pattern sizes based on those orders.
• Plan fabric usage.  Set up a marker to prevent waste.
• Order your wholesale fabrics and trims.
5.  Cut Make Trim
• Produce only those garments that get enough orders.
• Use a professional production house.
• Do quality checks.
6.  Fulfillment
• Deliver what the buyer ordered — when and how they want it delivered.
• Get paid!
• Follow up with your buyers. Take notes.  Adjust.  This is your core market research for your next season.
Get started on the next season, if you haven't already.
You too could be the next Chanel — only better because it is you!
Want to know more?  Sign up for any of PFI's business classes where you feel a need to know more.  Can't decide?  Sign up for a business consultation.  Your success is our success!
* * *