"So great to discuss my endeavors with Hannah, and she was very knowledgeable about the supplies I requested," Polly F.
"Ida was so very helpful matching the right fabric I need for my project," Kathleen L.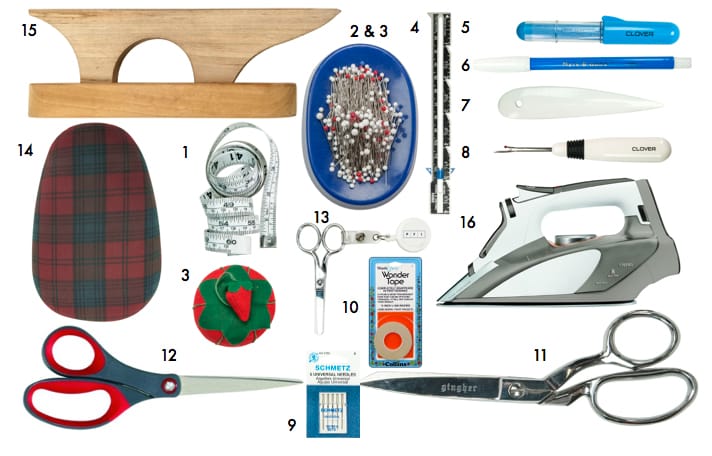 GREEN — It's the color of St. Pat's Day, Earth Day, ) & Spring. So it is our color of the month. 30% off all green things @PFI_supply through the month of March.
In-store closed due to COVID-19.  Please shop online.  Look for free shipping deals!
Shop our store:  4225 NE Tillamook, (971)801-6446.
           M-F: 10 am-7 pm; Sat: 10 am-5 pm; Sun: Shut
    Or order on-line
We have the latest and best supplies for your fashion design + licensed PFI pattern tools + beautiful fabrics from cotton to silk + hard to find tools
———-
Here are the essential ingredients for your sewing kit.
Shopping for the right tools and notions for your sewing class can be a nightmare in some stores.  Not to worry.  We have exactly what you need here.  Years of experience in sewing clothes have helped us focus on just the right things to have in your sewing kit.  No wasted effort or money.  Just the right tool for the right project at the right price.
Image above is from our Apparel Construction pattern instruction booklet.  All items available in our store.  Highlighted items available on-line.
1. Tape measure
2. Pin cushion (magnetic or tomato & berry)
3. Glass head pins
4. Seam gauge
5. Chalk pencil
6. Water soluble marker
7. Point turner
8. Seam ripper
9. Schmetz machine needles
10. Wonder tape
11. Gingher scissors
12. Paper cutting scissors
13. Thread nippers with leash
14. Pressing ham
15. Point press clapper
16. Iron
Not shown:
— Rotary cutter
— Patternmaking French curves
— Sewing machines
— Sergers
— Sewing bags
— Dress forms
Apparel fabric for apparel people • We are all things fashion