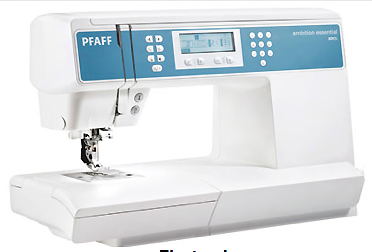 Get your sewing machines from Portland Sewing.  We carry only well-built, mid-range (no fancy embroidery) machines that can stand the test of time.  All of the machines  are made of ballistic plastic and metal in Japan or Taiwan.  No cheap plastic parts.  No "made in China."
Looking for a starter machine?  Try a Baby Lock Anna or Molly.
Looking for a good all-purpose machine that will last you many years?  Look at the Pfaff Passport 2.0 or Pfaff Passport 3.0.  Both have a walking foot and  a larger flat sewing surface for faster sewing.  Lots of light, a powerful motor and they are great for travel.
Think you might want decorative stitches for christening gowns?  You might want to start with a Viking Emerald 118.
Getting serious about apparel sewing?  Then we have the Pfaff Ambition Essentials and the Ambition 1.0.  These are the most powerful machines with their metal motors and built-in walking foot — they have a need for speed.  JANUARY SPECIAL:  Step up to Pfaff Ambition 155.  Same machine, same price as the Pfaff Ambition 1.0. with two extra feet (Gathering and Piping).
Click on the links to read all the details about each machine.
Choose your favorite.   Make your purchase below.  Pick up your machine at Portland Sewing.  Then sign up for a sewing class!
All of our machines are backed and serviced by Montavilla Sewing Centers with 4 locations for your convenience.
For questions, contact info@portlandfashioninstitute.com.
Instructor:
PFI
Dates/Times:
July store hours: Monday-Thursday, 10 am-9 pm, Saturday, 10 am-1 pm. Closed August 1-September 8.
Cost/Cost Options:
Check list below for prices.
Supply List:
CLASS SUPPLY LIST
Additional Notes/Costs:
Order your machine, then pick it up new and in the box from PFI. Or try our rent-to-own program: Try a different machine for each session of your class (just $10/session), then apply your rent to purchase of your machine -- a nice discount! The machine you buy will be new and in the box.