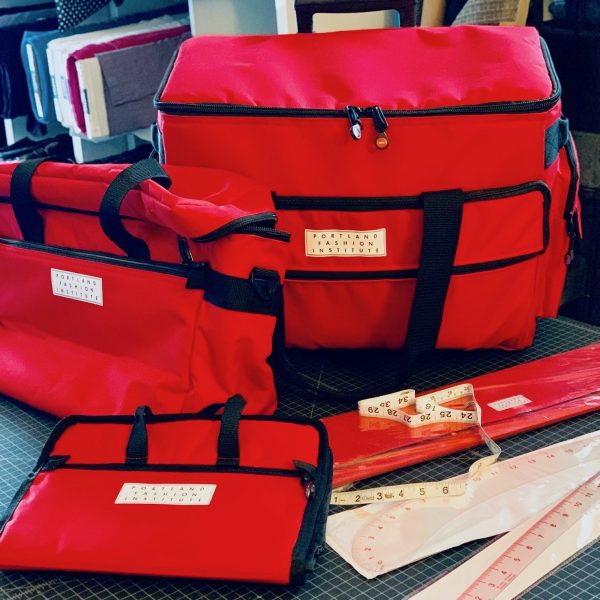 Exclusive!  PFI Sewing Bags
Order your PFI logo sewing bags and have exactly what you need to tote your projects.  Choose one, two, three or all four.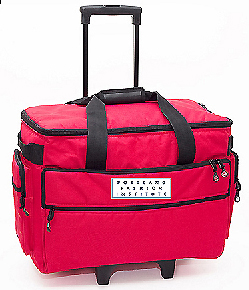 PFI19.  19″ Wheeled Sewing Machine Carrier: Designed to hold most small to mid-size sewing machines. Tough durable fabric over a steel frame.  Rugged ball-bearing wheels.  Collapsible handle and carrying strap.  Multiple interior pockets for additional storage. An absolute must-have for sewing! Dimensions: 19.25w x 14h x 9.5d $129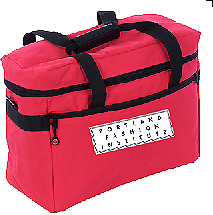 PFI18.  18″ Project Tote: Perfect for carrying small, lightweight machines or your current projects! Zippered accessory pocket on the front. Shoulder straps and grab handles. Fully padded for complete protection. 4 external pockets.  4 internal pockets.  Dimensions: 17w x 13h x 7d.  $55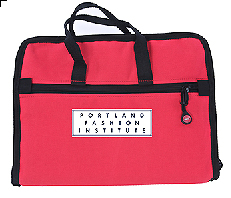 PFI12.  Our Notions Bag is uniquely designed, with a total of 12 pockets to carry just about everything you need.  With crystal clear zippered window pockets on the inside and a large zippered pocket on the outside, this is an absolute necessity for every sewing and quilting fanatic! Dimensions: 20w x 12h (open) $39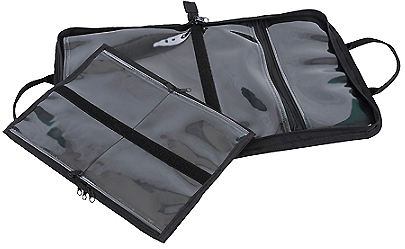 PFI-IN.  Purchase extra pages for your notions bag for $14 each.  Zippered, durable see-through pages makes everything easy to store, easy to find.

PFI Ruler Pack.  Margie Yap designed it for us.  We're the only ones to have a pack to carry your pattern tools and keep them safe.
PFI Supply Kit.  Want to buy the kit we supply to certificate students?  It comes with all three bags and fully loaded with the supplies you need for fashion illustration, sewing, patternmaking and draping classes.  Click here for a list of the supplies.  Pick up at PFI Supply only.  $500
All prices are will call at PFI Supply.  Click here for shipping.
Instructor:
PFI Supply, 4225 NE Tillamook, Portland OR
Dates/Times:
Shop hours. M-F: 10 am-7 pm. Sat: 10 am-5 pm. Sun: Shut.
Cost/Cost Options:
PFI 19 (Wheeled sewing machine case)-$129 PFI 18 (Project case) - $55 PFI 12 (Notions bag) - $39. PFI IN (Notions bag inserts) - $14 each PFI Ruler Pack - $29.99
Supply List:
CLASS SUPPLY LIST
Additional Notes/Costs:
PFI Supply is closed until April 28 by governor's orders due to COVID-19