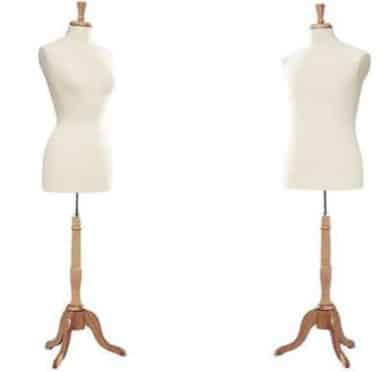 Get your display mannequin from PFI Supply.  This high-quality form features a light oak finish base and top cap with a cream colored padded jersey cover.  They are easy to transport.  The female forms are same size as size 6 dress forms. The measurements are: 24" waist, 37" bust, and height is adjustable from 50"-69.  Male forms are same size as size 40 dress forms.  Buy them new and in the box or assembled and ready to go.  They perfect for boutiques and displays.  They are also frequently used by tailors as a pin-up form. Will call only.  Sorry, no discounts.
Want to rent a form?  Click here for info or contact us at portlandsewingsupply@gmail.com, 971-801-6446
Instructor:
PFI Supply
Dates/Times:
M-F: 10 am-7 pm. Sat: 10 am-5 pm. Sun: Shut.
Cost/Cost Options:
Female Mannequin: $145.50 Male Mannequin: $165.50
Supply List:
CLASS SUPPLY LIST
Additional Notes/Costs: