Liza Rietz collaboration
Manipulate fabric and learn how to add fit, glamour and art into your garments.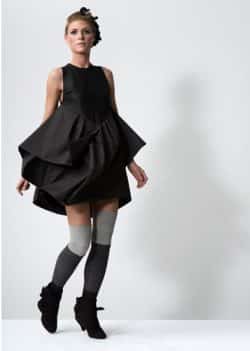 PFI is pleased to announce a collaboration with one of Portland's most honored and most creative designers, Liza Rietz.
Rietz' garments combine the best of art and architecture in modern yet feminine garments.  Her collections have been featured at Portland Art Museum,  Museum of Contemporary Craft and Pacific Northwest College of Art as well as her own boutique.
This summer, she brings her insights and teaching skills to PFI in 3 classes:
Surface Embellishment in Fashion Design
Surface embellishment and adornment have been used as bold forms of artistic expression in fashion design cross-culturally throughout history. In this course students will explore variations in texture and form through experimenting with the manipulation of fabric. Experimental application of techniques such as pleating, cording, ruching, smocking, and stuffed applique will provide a basis for an investigation of shape, texture and form. Each student will create yardage of fabric using these techniques and then design and sew a unique garment allowing them to explore how these embellishments function on the body.  Pre-requisite: Beginning Sewing                  Supply list
The Shape of Things – Geometry in Fashion
A strong design requires a purposeful shape. In fashion, the shape of a garment, whether bold or understated, has to work in harmony with the moving body. In this course, we will explore shape and volume in fashion design by draping geometric figures on the form and translating these shapes into simple patterns. What happens when a large triangle, circle or rectangle drapes on the form? How do shapes function with the body? As with origami, geometric shapes are particularly useful in creating volume and form in garments. Students will pleat, tuck and fold large fabric shapes on the body and learn how different textiles hold bold shapes. Each student will design and sew one unique garment using these techniques.  Pre-requisite: Beginning Sewing                  Supply list
Garment and Body – Sculpture in Motion
If a garment is a sculpture, how does that sculpture come to life on a moving body? This workshop will examine form and function in fashion design – utilizing key aspects of design such as shape, texture, architecture, repetition and volume and experimenting with the variable effects these attributes have in their interplay with the body shape. Traditional Western fashion design philosophies focus on precision pattern making resulting in tightly tailored, fitted garments. In this workshop students will step away from these philosophies explore the Eastern/Japanese emphasis on form by manipulating fabric through pleating, ruching, folding, and draping shapes directly on the dress form. Students will sketch, design, and sew a unique garment, a sculpture for the body, that expands on simple 2-dimensional manipulation of fabric to create and activate volume in a novel 3-dimensional design. Pre-requisite: Beginning Sewing                  Supply list
Syllabus File
Instructor:
Liza Rietz, designer
Dates/Times: Surface Embellishment: Monday-Thursday, July 10-13, 2-5 pm
Geometry in Fashion: Monday-Thursday, July 17-20, 2-5 pm
Garment and Body: Monday-Friday, July 24-28, 2-5 pm
Cost/Cost Options:
Surface Embellishment: $270 Geometry in Fashion: $260 Garment and Body: $390 All three for $828
Additional Notes/Costs:

Purchase your supplies from Portland Sewing's store with your 20% current student discount
CREDIT CLASS
|
CLASS POLICIES
|
CLASS SUPPLY LIST
|
WAITING LIST