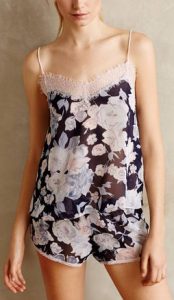 Level 1 (Intimates).  Work with knits and stretch fabrics while you make panties, a bra and a teddy.  Attach stretch lace, plush elastic and bra backs and straps.  Discover sources for bra-making materials.  Create garments that fit you and learn how to make garments to fit others.
Level 2 (Silkies). Plan for a romantic evening with a camisole, tap pants and embellished slip.  Work with difficult woven fabrics, such as silk charmeuse.  Learn how to apply elastic and lace. Cut and sew on bias.
Prerequisite: Apparel Construction
Non-certificate students click here for non-credit class.
Instructor:
Lisa Silveira, Wandering Muse
Dates/Times:
Lingerie 2: Fridays, February 22-March 29, 10 am-1 pm OR 6-9 pm

Cost/Cost Options:
18 clock hours @ $20/clock hour. Includes pattern & handouts.
Supply List:
CLASS SUPPLY LIST
Additional Notes/Costs:
Prerequisite: Apparel Construction
Don't forget to pick up your items at PFI Supply with your 20% student discount.
"The lingerie class was fantastic!  I loved learning the techniques and of course, working with gorgeous silk.  The cami/short set I made is so beautiful!" -- Suzy
"The undies were my favorite. Learning how to make bras and adjust patterns to my size was great." -- Chelsea