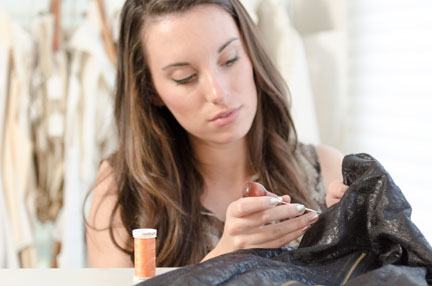 This classes has been postponed due to its intensive hands-on nature and the coronavirus closure. Look for new dates as soon as approved by Oregon. If you are registered, you will be notified as soon as the new dates are set. If you have any questions, please contact PFI at info@portlandfashioninstitute.com
Leatherworking:  Widen your sewing skills by learning to select, cut, bevel, stitch and edge real leather. Learn about leather types and applications, hardware, dyes and finishes. Add your personal style and preferences to enhance basic belt and bag patterns with your new skills. You'll  learn options for straps, pockets, lining, buckles, hardware and closures to suit your taste.  Once you have these skills, you are ready for future projects in handbags, backpacks and jackets.  Prerequisite: Industrial Machine Sewing (AD 210)
Instructor:
Colton Helfrecht, ColtyPDX, one of Portland's top handbag and leather goods designers
Dates/Times:
Thursdays, May 7-July 23, 6-9 pm
Cost/Cost Options:
36 clock hours + supplies. Tuition includes $25 kit fee. "I am very much interested in taking more leather working classes. Colton is a wonderful instructor. He is extremely knowledgeable, and generous with his tools and time. Please put me on a list for continuing courses, especially if Colton will be teaching." Vicki G
Supply List:
CLASS SUPPLY LIST
Additional Notes/Costs:
Check the supply list. You can purchase *supplies next door at PFI Supply with your 20% student discount.