Leatherworking 2: Backpacks
Show off your skills and make a beautiful bag with pockets, straps, zippers and closures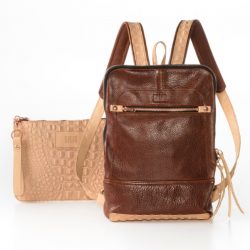 Make a handbag or backpack. Learn leather techniques for a variety of pocket styles, zippers, straps, frames, and findings. Examine patterns for leather, interlinings and support. Prerequisite: Leatherworking 1, Industrial Machine Sewing if you wish to use our industrial machines.
Instructor:
Colton Helfrecht, one of Portland's top handbag and leather goods designers and Stephanie Swango, co-founder of Bespoke Accessories Group
Dates/Times:
6 sessions: Weds-Thursday, July 19-20+Monday-Thursday, July 24-27, 6-9 pm
Cost/Cost Options:
$289 (includes kits) + supplies
Syllabus: *Syllabus File
*(not all classes have a syllabus).
Additional Notes/Costs:

Don't forget you get a 20% student discount at Portland Sewing's supply store.