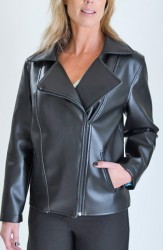 Create a leather jacket. Learn how to choose skins and plan a leather garment from design to cutting, sewing and lining. Go over sewing tools, techniques, stitches and seam treatments. Add fur trims, feathers, epaulettes or hardware to make your garment a unique item.
Prerequisite: Leatherworking 1
Instructor:
Dates/Times:
Cost/Cost Options:
Includes pattern 
Supply List:
CLASS SUPPLY LIST
Additional Notes/Costs:
Don't forget to pick up your items at Portland Sewing's supply store with your 20% student discount.