For patternmaking and draping.
With these curves, you have all you need to draft your patterns or turn your drapes into patterns.  All have measurements on one edge.  And they are see-through, so you can better place your lines and square your corners.
We love them and so will you!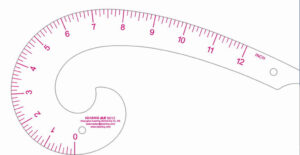 Neck Curve, $6.  For tight curves and circles. 12″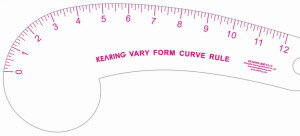 Armhole Curve, $6.  For oblong shapes such as armholes.  Perfect for sleeve caps too. 12″

VaryForm Curve, $12.  The jack of all trades.  Use it for hems, crotch curves, swimwear and performance wear. 24″

Hip Curve, $12.  To give you that gradual curve that needs to be just right. 24″

2″x18″ C-Through ruler, $6.  If you don't have this in your tool kit, you aren't a pattern maker!
Plus shipping and handling.
Instructor:
Portland Fashion Institute
Dates/Times:
Cost/Cost Options:
Neck and Armhole Curves, 2"x18" C-Through Ruler, $6 each will call (+S&H for mail orders) Hip and VaryForm Curves, $12 each will call (+S&H for mail orders)
Supply List:
CLASS SUPPLY LIST
Additional Notes/Costs: