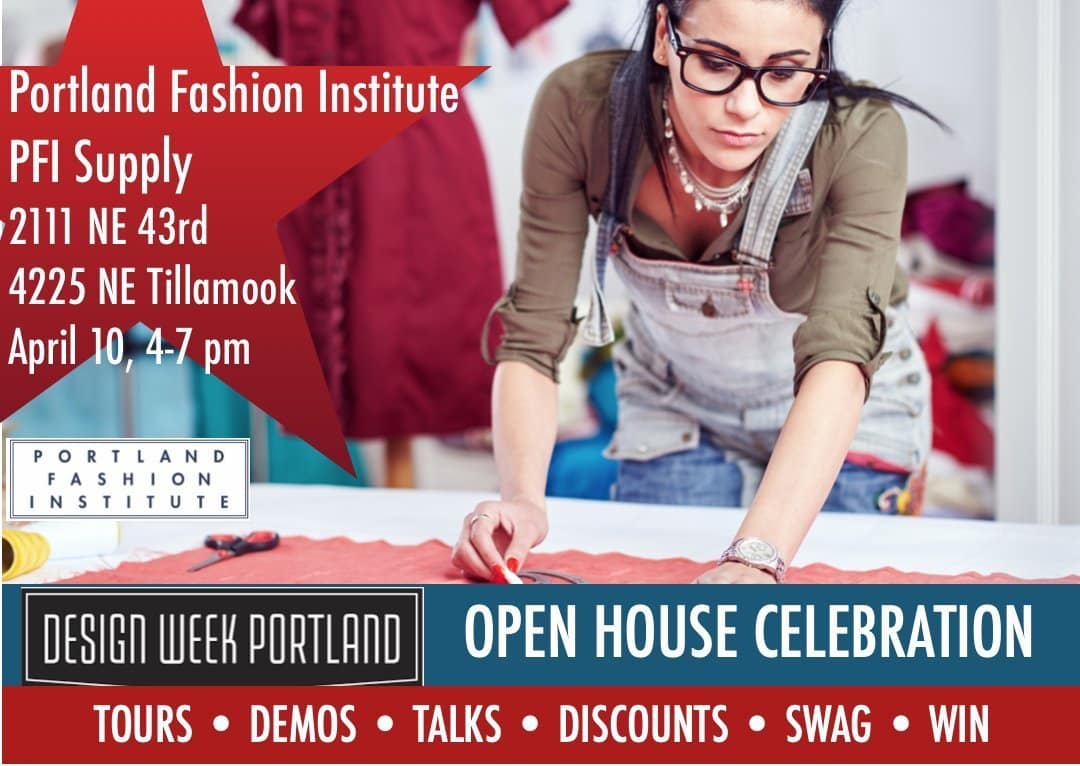 Portland Fashion Institute purchased the building next to its main building in Portland's Hollywood District. The building adds another 3,000 square feet to house a growing number of classes and students. To celebrate, PFI has joined with Design Week Portland to offer a FREE evening of tours, demos, talks and shopping.
The first floor of the building has been remade into a fabric store with everything from scissors and thread to silks and knits for apparel makers. The DWP Open House offers:
4-6 pm
TOUR:  Bring in this card for a 20% discount in our new fabric store.
– Get a SWAG BAG with purchase.
– Enter to WIN a sewing machine from Montavilla Sewing Center
– See 60 years of Barbie + 100 designer fashions.
5-6 pm
FREE DEMOS.  Please register below:
– Patternmaking. Anne Swanson, freelance pattern maker
– Sewing the perfect zipper. Suzi Gurney, Modified Style winner
– Machine knitting. Lisa Silveira, Wandering Muse
– Fabric painting. Tricia Langman, Spoogi
6-7 pm.  Doors 5:30 pm.  Please register below:
TALK:  How to make it as a fashion designer with award-winner Michelle Lesniak, Project Runway All Stars  Now in a new, larger room @ 4023 NE Hancock.
FREE!  See you April 10, 4-7 pm
Instructor:
Portland Fashion Institute//Portland Apparel Center
Dates/Times:
Wednesday, April 10, 4-7 pm
Cost/Cost Options:
Free
Supply List:
CLASS SUPPLY LIST
Please contact the PFI Sewing Store Manager for questions about your Supply List.
Additional Notes/Costs: