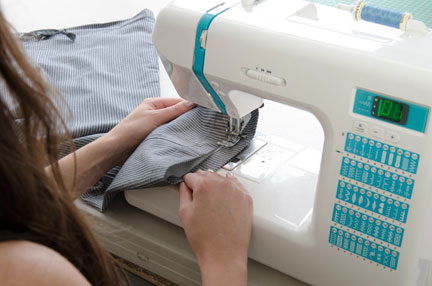 BEGINNING SEW in LO $179.95 each level (includes patterns & handouts). Live in SW? Want to learn to sew and looking for something closer to home? PFI is now offering its beginning sewing classes at Montavilla Sewing in Lake Oswego, 429 First Street.  Step up your skills with each level. Learn to use commercial patterns, layout and cut fabric.
Weds, 1:30-4:30 pm
Level 1, Feb 6-27.  Learn basic stitches, techniques and how to use your machine while making an apron.  Supply List
Level 2, March 6-27.  Manage large amounts of fabric.  Add sleeves, pockets, belts and bands while making a robe. Prereq Level 1.  Supply List
Level 3, April 3-24.  Discover secrets of interfacing, elastic.  Sew collars, lapels, pants, buttons & buttonholes while making pjs. Prereq Level 2.  Supply List
Click here to register.
Instructor:
Britta Hellquist, tailor and couturier
Dates/Times:
Weds, 1:30-4:30 pm
Cost/Cost Options:
$179.95 each level
Supply List:
CLASS SUPPLY LIST
Additional Notes/Costs: