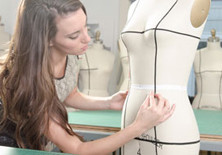 Get your professional dress form from PFI Supply.  These are the same forms used by Parsons and FIT.  If they are good enough for New York, they're good enough for Portland!  PFI is the only place in Portland to sell them.
Features of our professional dress forms:
— Pinnable linen padded surface
— Collapsible shoulders
— Sturdy wire cage on bottom for skirt measurements
— Adjustable height
We have men's dress forms too!  Sizes are based on chest measurement; these are the traditional half-body forms.  Let us know if you prefer young men or mature men (fuller waist and hips) when ordering.  And let us know if you're looking for a full -body men's dress form.  We have access to those too.
Your dress form is assembled and ready for you to use within two weeks of your order.

Choose the form based on your smallest of your bust, waist or hip measurements.  Click here for the size chart.  Then make your purchase below.  Prices range from $499-860 based on style (half or full body) and size.  Price includes shipping from New York & handling.  You'll pick up your form at PFI Supply.
Want to learn how to pad out your dress form to meet the rest of your measurements?  Click here for our Body Double class.
Ready to use your dress form in our Draping classes?  Click here to go to that page.
Want to rent a form?  Click here.
For questions, contact info@portlandfashioninstitute.com or call 971-801-6446
Instructor:
PFI
Dates/Times:
Store Hours: Monday-Friday, 10 am-9 pm; Saturday, 10 am-5 pm
Cost/Cost Options:
See price list
Supply List:
CLASS SUPPLY LIST
Additional Notes/Costs: