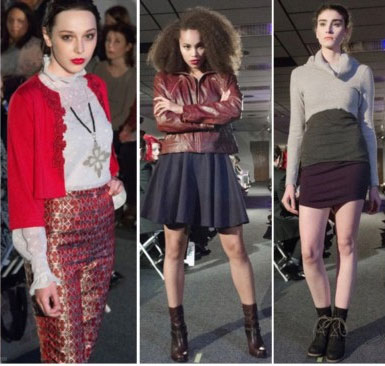 SEWING & FASHION CLASSES
Learn to sew or take your fashion skills to the next level at Portland Sewing & Portland Fashion Institute
The project of your dreams is only a sewing class away.
At Portland Fashion Institute, sewing and fashion classes are offered and designed for those of all sewing abilities. Whether you are just learning to sew or are ready to learn pattern-making, draping, fashion illustration, tailoring and couture, we have the teachers and workshops that help you cross the finish line to achieving your goals.
Although classes vary every term, the skill levels offered always range from beginners to advanced sewers alike, so you'll always feel welcome.
If you have little to no sewing experience, our Beginning Sewing class is for you, where you'll sew basic stitches, practice and apply basic techniques, and learn to read and understand commercial patterns.
If you're a little more advanced, our class Apparel Construction may be more your speed.  Here, you'll learn how to make garments fit plus how to make them ready to sell in a store or for you to wear with pride.
If you've been afraid to try more difficult projects, our Knits, Activewear and Lingerie classes are perfect for you.  Here you'll sew samples that show you how to control stretchy and slippery fabrics so you can turn your fear of wasting time and money into the joy of wonderful results.
You'll learn the basics and inner workings of sewing from teachers who not only work in the apparel industry but also know the latest industry tips and tricks from Industrial Machine Sewing to Shoemaking to Leatherworking where you'll widen your sewing skills by learning to select, cut, bevel, stitch and edge real leather.
Our classes, held in NE Portland, OR, take advantage of the local fashion industry, professionals, and culture, as well as the abundance of community support and opportunities for collaboration unique to the area.
But don't just take our word for it—ask our students. Here's what a few had to say:
"As a student at Portland Fashion Institute, I have come to experience the encouragement and direction that is given to every PFI student to grow their relationship with sewing and fashion. The generosity of guidance and attention to detail that is given by PFI instructors is unparalleled; each student and their journey into sewing is taken in with the utmost care to produce not only the most lovely of work, but a confidence to recreate it again and again." — Frances M 
"A great place to learn how to to sew — or to improve your skills. I loved working with the owner and the teachers. They are savvy and really know their stuff. I saw people with no sewing experience learn very quickly and I improved my understanding of what I was doing right (and wrong) very quickly." — Shelly C
Sign up for a class or private lesson and see for yourself.
Download the latest class flyer here.