How to apply to a Certificate Program
PFI welcomes applications from motivated individuals who seek to fulfill a commitment to personal excellence. All applicants must possess the drive and commitment necessary to complete a rigorous program and communicate and work collaboratively with others in an artistic environment.
1. A completed
Application for Enrollment.
2. An 800-word essay (200 words per question) that answers these four questions:
What are your expectations, goals, hobbies and special interests?
What are your reasons for choosing PFI?
What appeals to you about the certificate you are considering?
What are your goals and aspirations upon graduation from PFI?
3. Official transcripts from your high school or most recent college/university attended—OR—GED or recognized equivalency—OR—signed Home School Program Certification form and transcripts. 4. A minimum Grade Point Average of 2.0. 5. Ability to speak English and use a computer. 6. Proof that you will be 18 years of age prior to starting classes, e.g., a clear photocopy of your Driver's License. 7. A letter of recommendation from someone unrelated to you, e.g., teachers, counselors, or employers. 8. An interview and tour of PFI. 9. $50 non-refundable application fee.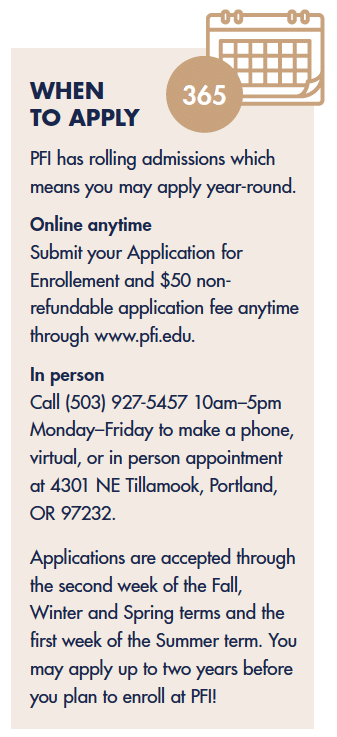 Once the application is complete and submitted along with the accompanying documents, applicants are notified of the results of the admission process by confirmation e-mail within 5 business days. Those denied will be told what is missing from the application and can reapply the following term.
Assessment is based on review of the application materials listed, recommendation letter and supplemental information from the tour and discussion. We look for the following qualities:
Evidence of previously demonstrated skills or aptitudes, e.g., creativity, manual dexterity, formal or informal involvement in fashion or sewing.
Proven ability to work well with others.
Proven ability to set and achieve goals.
Proven communication skills, including comprehension of English.
Ability to use a computer.
A minimum Grade Point Average of 2.0.
Evidence that your intent to attend PFI represents a researched choice that fits with your career and personal goals.
Portland Fashion Institute prohibits discrimination against its customers, employees and applicants on the basis of race, color, national origin, age, disability, sex, gender identity, religion, reprisal, and where applicable, political beliefs, marital status, familial or parental status, sexual orientation, or all or part of an individual's income is derived from any public assistance program, or protected genetic information in employment or in any program or activity conducted or funded by PFI.
ACCESS STATEMENT: Students with disabilities are invited to apply for admission to any Certificate Program. PFI strongly
recommends that students who are requesting accommodations for equal access to educational programs notify PFI prior to the term to ensure their needs are met in a timely manner. To be eligible for accommodations, recent documentation from a medical doctor or learning specialist is required. Consult with PFI for additional information. PFI asks all students to respect the health and safety of fellow students. By Oregon law, no emotional support animals or pets are allowed in the school; only licensed and controlled service animals.