PATTERNMAKING CLASSES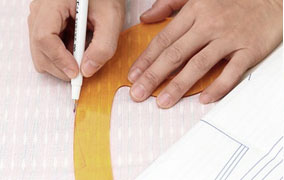 We started Portland Fashion Institute  in part to give every creative person in our area a chance to realize their dreams though patternmaking.  We are happy to say we have given so many a chance to grow their skills.  We love our French-style of patternmaking. We think you will too.
I just wanted to reiterate my thanks for your help and mentorship over the past few years.  I'm so excited about my new job in product innovation and development.  The team I'm joining wants someone who knows how to pattern and sew in order to test out new ideas and optimize them.  The construction, pattern making and CAD skills I gained at Portland Sewing were key to the position.  Thanks so much for your guidance and leadership!"  — Serena S
PFI students have gone on to success in apparel.  They include:
– Alicia Wood, Keen and Ms Wood Kimonos
– Annie Cattabriga-Alosa, Divinia
— Britt Howard, Portland Garment Factory
– Caitlin McCall, Quick Study Clothing
– Celeste Sipes, Radish Underground
– Claire Doody, Copper Union
— Dawn Moothart and Heather Treadway, Portland Apparel Lab
— Diemut Bodenstein, Portland Opera
– Ellen Hsu, Vintalier
– Erich Treeby and Erin Lindholm, Duchess Clothier
– Heidi Bergin, Adelheid Bergin
– Jessica Caldwell, Machine Apparel
– Joan Vardanega & Cayenne Adler, Michael Curry/Portland Opera
– Karen Davis, Moulagerie
– Lisa Silveira, Wandering Muse
— Maia Burt, Nike Swim
– Mark McGinnis, Adidas and The Incorporated
– Serena Skaates, Columbia Sportswear
– Stephanie Mai, Stephanie Mai Couture
– Tiffany Bean, Mabel & Zora
Other students include:
– Amanda Needham, stylist for Portlandia
– Gretchen Jones, Project Runway Season 8 winner and fashion designer
– Holly Stalder of Haunt and Kate Towers, both formerly of Seaplane
– Rachel Turk of Church & State
– Amy Sim, Bryce Black , Becky Ross, Janeane Marie, Korina Emmerich, Project Runway contestants
– Many who now work at Adidas, Carson Footwear, Columbia Sportswear, Merrill, Nike, Solestruck, True Collaborative, Wilson Tennis, Wieden + Kennedy and several area boutiques.
Your name could be next on our list!