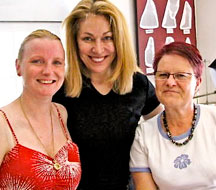 Fashion entrepreneur, designer and writer Sharon Blair (center) studied couture sewing in Paris with Anne Bizet (l) and Muriel Ivagnes (r) at the Paris American Academy. Sharon also has a bachelors and a masters and advanced studies in apparel.
She is on the board and a judge for the Portland Fashion and Style Awards and several local charities.  She teaches apparel construction for Columbia Sportswear and patternmaking at Nike.
Portland Sewing started business in 2002 with a beginning sewing class for four students. The business has grown to add classes in intermediate and advanced sewing, tailoring, draping, design and specialty classes on zippers, textiles and sewing difficult fabrics.  In 2010, Portland Sewing added classes on the business of apparel.  In 2016, it added Portland Fashion Institute, a licensed career school that offers three certificates
Sharon owns and directs Portland Sewing and Portland Fashion Institute.
Her apparel life began more than 20 years ago as a custom clothing business called BlairWear. That company now offers two lines of clothing: StudioSKB (Vintage Inspired.  American Made.) and SKPDX (Easy wear. Easy care. Beautiful knits made in the USA). Sales benefit The Nature Conservancy and Locks of Love.
Sharon's work has been featured in national and local publications: Threads, SewStylish, The Oregonian, Portland Business Journal, The Mercury, Portland Monthly and local fashion shows. She has appeared on KATU's AMNorthwest as the "Sewing 101" expert.