We all have a basic sewing kit: Tape measure, seam gauge, chalk pencil and marking pen, glass head pins with pin cushion and, yes, a seam ripper.
But there are some tools I have in my top drawer next to my sewing machine because I use them all the time. The first four give that special finishing touch that take my designs a step up to a professional look. My number one is like my right hand. I can't live without it.
I joke about these five favorite notions so much that one of my students said, "You should write an article." So here goes.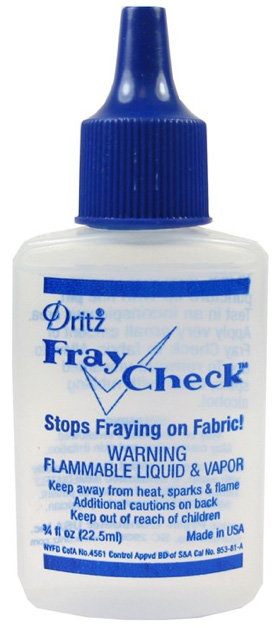 #5 – Fray Check. Also known as seam sealant. I call it "Our favorite petroleum distillate." (Another is gasoline.) Put it on the back of buttonholes before cutting them and you will indeed keep the cut from fraying. Sergers can't backstitch. Think of Fray Check as a substitute. I've washed my serged garments dozens of times and the seams still hold.
#4 Stiletto Tracing Wheel. When you absolutely need piercing power. The stiletto has longer tines and is more stable than other tracing wheels. Sharp points pierce pattern tag board. Use it to transfer lines to tag or muslin.
#3 Beeswax. Before you hand sew, run your thread through beeswax then iron the thread. It coats to stop tangles and knots. Extra tip: Pull your thread from your bobbin. Bobbin winding keeps thread from snagging.
#2 Prismacolor Markers. Ideas come in a flood. If I don't sketch them right away, I'll lose them. Markers are a must to capture the colors and textures I have in mind. There are many on the market, but Prismacolor does a great job of shading and blending at a good price and availability.

#1 Gingher Scissors. Save your hands and invest in the best fabric cutting tool. Ginghers may cost more but if you take care of them, they'll last you a lifetime. My aunt Marilyn gave me my first pair when I was five years old and new to sewing. I have them to this day.
This list is my current top five. By the way, these aren't ads, just my personal experience.  #1 isn't likely to change. But I could be persuaded on the other four. So let me know: What are your five favorite notions?